Get a free copy of "The 21 Rules of This House"
by subscribing to our free newsletter.
The 21 Rules of This House cover just about every situation common to young children and teens in the home. The goal in using these "House Rules" is to clarify for everyone what is pleasing and displeasing to Mom and Dad, regardless of their moods, and to administer appropriate discipline, without anger, in response to any willful defiance. It's amazing how quickly children and teens can come around, once parents become consistent.

What is a "Wisdom Workshop?"
Noble Institute is focused on Christian evangelism and discipleship.  We do our best work by developing and presenting what we call "wisdom workshops" for individuals, families, businesses, local churches and schools. 
These workshops provide more than just information. Our workshops offer inspiration and motivation. We cast vision for what life could be like when we trust God enough to actually obey Jesus Christ as Lord.
Our flagship workshop for 2014 is called Raising Kids to Do Hard Things. It is all about being wise in the way we raise our children. It encourages parents to aim their kids high at targets that matter.
The beginning of wisdom is to fear the Lord. At the very least that means to stop ignoring His purpose for entrusting your children and grandchildren to your care.
Wisdom is the ability to see how one thing relates to another in God's purposes. He accomplishes a thousand things in everything He does, and in the Christian family God is accomplishing a lot.
First, He brings one man and one woman together in holy matrimony. He provides for the financial needs of the family and of His entire kingdom through the financial interests of generous householders. He brings new children into the world, and then He is saves the souls of those children for all eternity. Through these household responsibilities God raises up qualified leadership for His church, and He sends out every member of the godly family to shine as lights in this world. This is how God uses households to lead their neighbors to Christ. This is what it means to walk in the wisdom of God.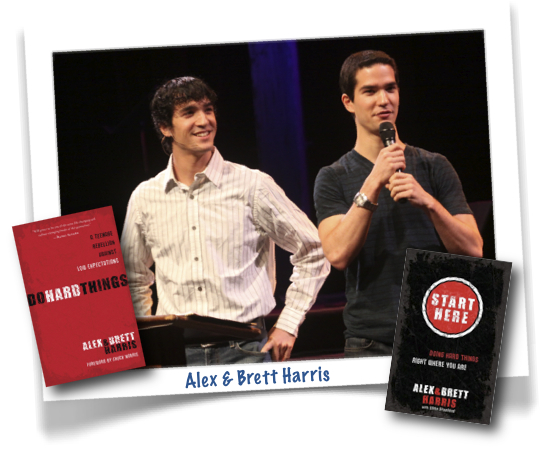 Join the Rebelution!
My son's, Alex & Brett, have done a good job of raising awareness of millions about what teens are capable of. TheRebelution.com has helped to launch a youth movement around the world to do hard things for the glory of God and the good of others.
Now, through my parenting workshop, Raising Kids to Do Hard Things, God is raising up parents and grandparents to do hard things as well. 
Each family, as a team, is far more effective than any one individual could ever be. But a local church, functioning as a neighborhood-team of like-minded family-households serving in voluntary association with one another, can do even more.
By coordinating their efforts and contributing their resources to the cause, neighborhood groups can be even more effective than any one family-household could ever be by itself. And so it goes. Entire communities can be transformed by the power of the gospel.

Noble Institute offers the training workshops that raise up a new generation of "Founding Fathers." We cast the vision for ordinary householders to live as ambassadors for Christ by making their home an embassy of the kingdom of God. Through our efforts God is bringing another Great Awakening to our nation. Thousands are coming to Christ.

So, if you want to invest is a successful ministry, support our work. Get actively involved. Subscribe to our newsletter. Read our blog posts. Watch our videos. Listen to our audio files. Attend our workshops when they come near you, and encourage your friends and family in other parts of the country to do so as well. Get involved in the Great Commission.
Make your own home an embassy of God's kingdom in your community and a pillar in your local church.

If you can do so, why not donate funds each month to help us rent our workshop facilities and cover our travel expenses? You can also donate mileage credits from any major airline to help us cover our airline ticket and car rental needs.
Together we can make a difference in both time and eternity.  Thanks.
13
Virginia Beach/Chesapeake Area — Raising Kids to Do Hard ThingsChesapeake, VA
20
Northern Virginia Area — Raising Kids to Do Hard ThingsPurcellville, VA | Tentative Address
10 - 11
Family Relationships Conference, Ocean Shores, WA
18
Syracuse NY Area — Raising Kids to Do Hard ThingsFulton, NY
25
Long Island NY Area — Raising Kids to Do Hard ThingsPatchogue, NY
15
Baton Rouge Area — Raising Kids to Do Hard ThingsBaton Rouge, LA